Click the link for the group in [Group Name].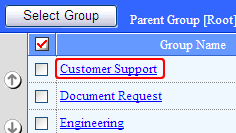 To edit a group

Group Information

Enter the information about the group.
* The Group Name is a mandatory field.

Group Name
Enter the name of the group.
Organization Code

Enter 3-digits code.
If you want to get the organization code from an existing group, click [Select Parent Group].
Choose a group which has the organization code you want to get.

Internal Organization Code
Enter the organization code used in your organization.
Contact
Enter the contact information.
Notes
Enter the notes if available.




Select Parent Group

Select a parent group
When you click [Select Parent Group], the selection screen is displayed.


When you select a group and click "OK", the group code is displayed in the field.


Click [OK] button to save the changes.
To delete the group, click [Delete].