Click [Directory] tab to see the [Directory Service] screen.
* If no directory services are added by using the management tool, you cannot see the screen.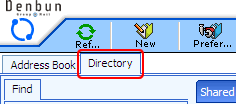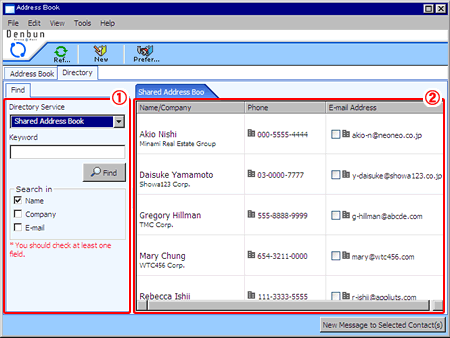 1.Find
2.Contacts
Components on the Screen

You can find contact information on the directory server.




Step 1. Select a directory service

Select a directory service from the pull down menu.


Step 2. Enter keywords

Enter the keywords in the text box.


Step 3. Select search condition

Check where you search in.
* Some of the fields may not be available due to the settings made by the administrator.

* You should check at least one field.

Step 4. Start the search

Click "Find" button to start the search. The search results will be showed in the right pane.




The contact information registered in the directory service shown on the screen.
The number of contacts displayed per page can be changed by Preferences.