- AND search is available.
AND search can be performed when you enter more than one keyword by separating a space.
e.g. Searching messages which contain "Smith" and "Denbun".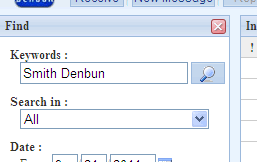 - Multilanguage search support.
Messages written in Chinese, Korean, etc can be searched.


Changed search method.
Use N-gram instead of Morphological Analysis Engine.
->
Limitations
Changed method of field selection for search.
To improve search performance, one of "All", "From", "To/Cc", "Subject", "Message body" can be selected.