Denbun provides optimal user interface for PC, tablet and smartphone
"Smart Device Support" let's use e-mail anywhere anytime Ver. 3.3 or higher
Denbun supports accessing from smart devices, such as iPad, iPhone, Android tablets or smartphones.It realizes high operability for tablet access.PC for internal use, tablet for outside or meeting, you can use it properly and comfortably.
Denbun provides a dedicated user interface so that users can handle messages with small screen in smartphone.
Furthermore, mobile version for docomo, au and SoftBank is available as standard.

"Automatic Optimizing Feature" optimizes screen for PC, tablet and smartphone
When you access to Denbun from a browser on PC or tablet, Denbun shows you the user interface for PC.When you access to Denbun from a browser on smartphone, Denbun shows you the user interface for smartphone.You can use Denbun with the best user interface on each device.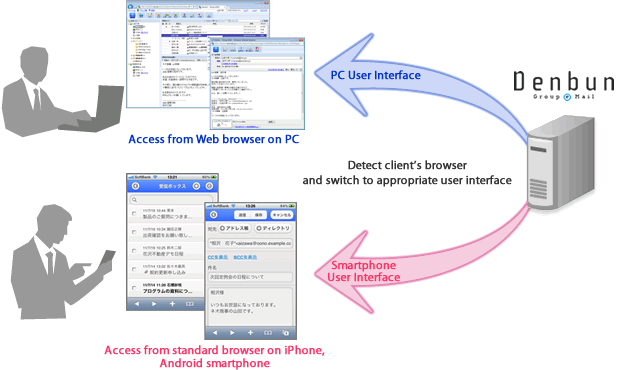 All you need is Denbun server, you can use Denbun in your company without installing any special application on each smartphone.
Its High visibility and operatively is equal to smartphone application.
The user interface for smartphone is using the latest web standard technology "HTML5". Although it works on web browser, it provides easiness like smartphone application.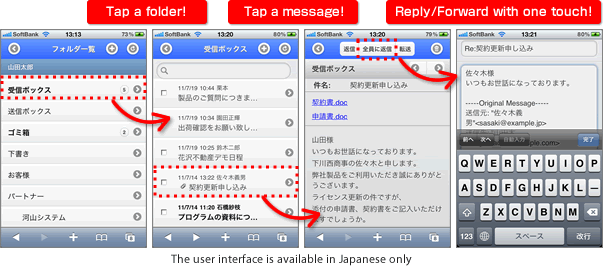 Users can use many functions such as number of unread messages for each folder, search contacts from the address book , directory (LDAP).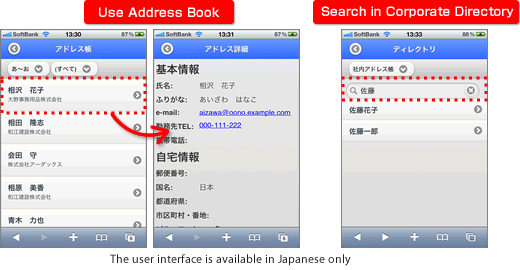 It is centralized and secure because all messages are stored in a server.
Any actions on smartphone such as read/unread status of messages, flag, sending messages are shared with PC.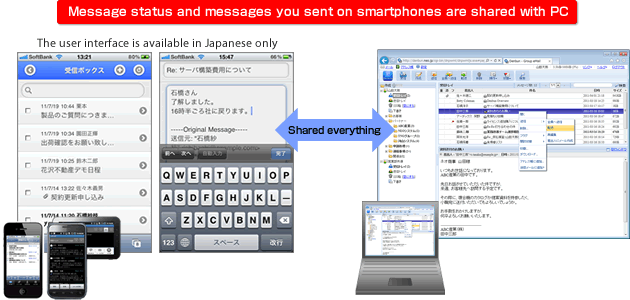 All messages are managed in one place (a server) and basically no data stored in devices, it is secure mail system against lost of device.
You can try it online demo
You can access Denbun by using your iPhone or Android smartphone to try the user interface.(Free of charge)
Please refer "Online Demo" for how to access to Denbun.