Work Smart with Email
Review Emailer to Increase Productivity and Business Efficiency
Most frequently used Software in daily office is email software.If the email Software is non user-friendly or its response is slow, it adversely affects business efficiency.
Let's suppose that there is wasting time whenever staring up, displaying, searching. Even If it 3 minutes per person per day, the wasting time per company per year becomes huge amount. Furthermore, users' frustration due to using a non user-friendly Software is not good idea.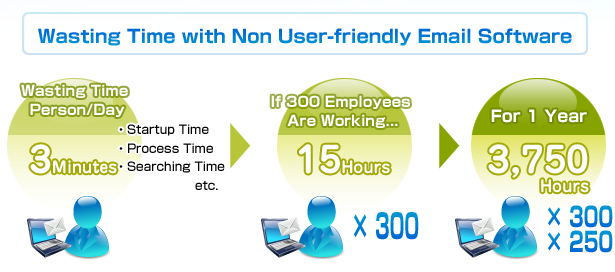 Denbun IMAP Version Makes Your Business Smart Without Wasting Time
Denbun is developed to realize "Smart Work".We use the next generation Web standard HTML5 to develop Denbun and realize rich and high speed user interface we have never seen before.Users can use Denbun just like a desktop emailer without any stress and improve messaging efficiently.
Looks and Feels like a Desktop Application With HTML5
Using a WebMail gives us many advantages such as centralized data or mobile access. However if we compare a WebMail with a desktop application, in fact, there are many non user-friendly WebMail Software.If we choose a such Software, it worsens users' operability and increases volume of work for system administration due to increasing number of questions about how to use...

To realize smart work, user interface of email Software is important. If we pursue user interface which is the almost same as the user interface of a desktop emailer, HTML5 is a mandatory.We developed Denbun with HTML5 and improved user friendless.Being possible to use it for long time is an advantage for enterprises, because HTML5 is a standard specification and may become a major in future.
Translate English messages at once
Since globalizing of business activity, opportunity of exchanging English messages is increased.Dictionary and translation tools are mandatory for the employees who are weak in English, the employees who have some English skill, employees who come from oversees.There are Software and services on the web, but whenever she/he wants to find something, she/he has to open the Software and/or copy & paste text.
Denbun provides Japanese/English and English/Japanese translation functions which is integrated with Excite.It enables user to translate text easily.
The Japanese English translation feature is a charged service provided by Excite Japan Co., Ltd.
If you wish to use the feature, you have to a subscribe to Excite.
Important Notice(8/29/12)

Use with Mobilephones, Smartphones and Tablet PCs Now
Speediness is required now a days, speedy handling messages is also required.You may loose your business chances unless you speedy reply to messages from you customers even if you are on the way or business trip.
Denbun enables users to communicate speedy anywhere because it supports mobile devices, smartphone and Tablet PCs.Denbun enables users to communicate speedy anywhere because it supports mobile devices.

Small Differences Make Big Effect!Convenient Features
Not easy to reduce wrong transmission.If a message you sent to wrong person is important, it makes big trouble.Denbun provides "Undo Send" function which sends a message after certain time is elapsed when the user click the send button.
Furthermore, in the new version, some other functions such as the batch attachment files downloading are added to improve usability and Denbun is now much similar to a desktop email client.

IMAP Obtains High Performance for a Large Scale Implementation
There are two types of method of receiving messages in WebMail, IMAP and POP. IMAP is the better selection in consideration of a large scale implementation.
Denbun is using IMAP4 that allows to store and manage messages in a mail server, not in individual's PCs or terminals so that management data can be done in one place.All the messages sent and received are stored in a mail server, and users can use E-mail system as usual through Denbun on a browser.
Since message data is not stored in users' PCs, it prevents information leaking and suites for internal control measures required keeping all message data.